Kia Sedona: Stowing the rear seat - 3rd row seat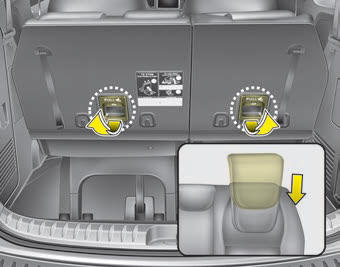 The rear seat can be folded and stowed in the luggage compartment to provide additional cargo space.
To stow the rear seat :
1. Lower the headrest to the lowest position. To stow easily, adjust the seatback to upright position. (if necessary)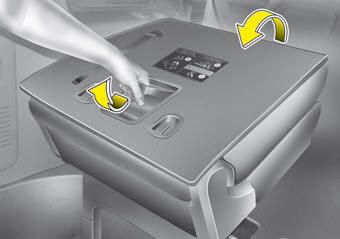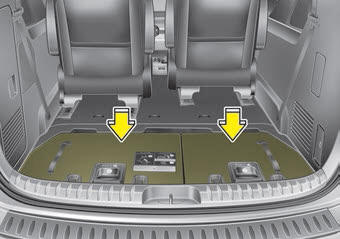 2. Pull up the seat by using the stowing lever.
3. Stow the seat by pushing down firmly.
Make sure there is no body or object around the seat and be careful not to injure your hands or body under the seat or in the moving parts when stowing or reinstalling the seat.

CAUTION - To stow 3rd row seat
Do not stow the 3rd row seat when the seat back is folded down. It may damage the 3rd seat mechanism.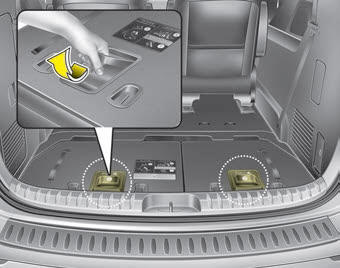 To use the rear seat :
1. Lift the seat by pulling up the stowing lever.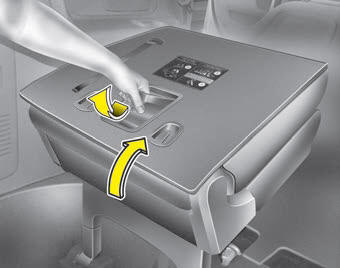 2. Release the lever and push the seat forward firmly until it clicks into place to insert the catches into the anchors.
✽ NOTICE
Do not push down the upper part of the seatback when pushing the seat forward. Doing so can prevent the catches from being locked in position.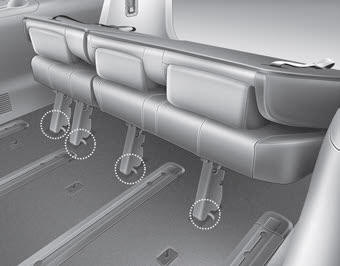 3. Make sure the catches are locked in position by moving the seat forward and backward or lifting the front portion of the seat. If the seat moves, it is not locked properly.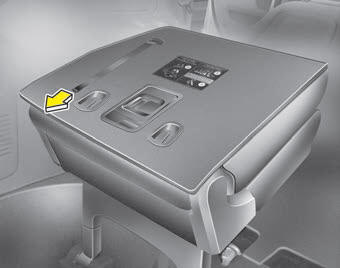 4. Pull out and hold the folding strap.
5. Hold the seat back when you adjust the seat back angle until it clicks into place and then release the folding strap.
Make sure the seatback is locked in place.
6. Return the rear seat belt to the proper position.

WARNING - Cargo
Do not place heavy objects in the rear seats, since they cannot be properly secured and may hit vehicle occupants in a frontal collision.
When you fold the rear (2nd and/or 3rd row) seatback, insert the buckle in the pocket between the rear seatback and cushion. Doing so can prevent the buckle from being damaged by the rear seatback.
When returning the rear (2nd and/or 3rd row) seatbacks to the upright position, remember to return the rear shoulder belts to their proper position. Routing the seat belt webbing through the rear seat belt guides will help keep the belts from being trapped behind or under the seats.
Make sure the engine is off, the automatic transaxle is in P (Park) and the parking brake is securely applied whenever loading or unloading cargo. Failure to take these steps may allow the vehicle to move if the shift lever is inadvertently moved to another position.

WARNING - 3rd row seat
3rd row occupants should always remain in the center of the seat cushion so the occupants head is protected by the headrest. If not, the tailgate may hit the occupant's head, which could cause injury.