Kia Sedona: Third generation YP (2014-2019)
Third generation YP (2014-2019)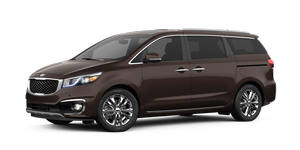 The Sedona is premium comfort with the power to transform. Aggressive and refined, it's your getaway vehicle and lounge on the go. The Sedona is comfort for everyone, fitted with high-tech gadgets, like the Smart Power Liftgate, and available second-row First-Class Lounge Seating.
Kia introduced the second generation Carnival/Sedona worldwide for model year 2006–in short (SWB) and long-wheelbase (LWB) models – with a 2-inch-wider front track, 3-inch-wider rear track ...
Other Information:
Parking brake
Checking the parking brake Check whether the stroke is within specification when the parking brake pedal is depressed with 30 kg (66 lb, 294 N) of force. Also, the parking brake alone should se ...
External AMP Components and Components Location
Components Connector Pin Information No.Connector ANo.Connector B1Left front door (+)1Center front (+)2Right front door (+)2-3Left side door (+)3-4Right side door (+)4-5Subwoofer 2 (+)5Navi (+)6 ...
Copyright В© www.kisedona.com 2016-2019