Kia Sedona: Third generation YP (2014-2019)
Third generation YP (2014-2019)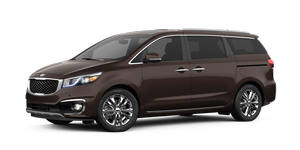 The Sedona is premium comfort with the power to transform. Aggressive and refined, it's your getaway vehicle and lounge on the go. The Sedona is comfort for everyone, fitted with high-tech gadgets, like the Smart Power Liftgate, and available second-row First-Class Lounge Seating.
Kia introduced the second generation Carnival/Sedona worldwide for model year 2006–in short (SWB) and long-wheelbase (LWB) models – with a 2-inch-wider front track, 3-inch-wider rear track ...
Other Information:
Front Seat Belt Pretensioner Repair procedures
Replacement When installing the belt, be careful not to damage the pretensioner. 1. Remove the center pillar upper trim. (Refer to Interior Trim - "Center Pillar ...
Rear Transverse Trim Repair procedures
Replacement • When prying with a flat-tip screwdriver, wrap it with protective tape, and apply protective tape around the related parts, to prevent damage. ...
Copyright В© www.kisedona.com 2016-2019