Kia Sedona: Second generation VQ (2006-2013)
Second generation VQ (2006-2013)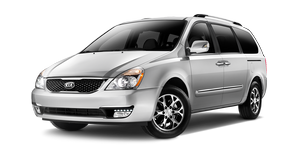 Kia introduced the second generation Carnival/Sedona worldwide for model year 2006–in short (SWB) and long-wheelbase (LWB) models – with a 2-inch-wider front track, 3-inch-wider rear track and reduced turning radius than the first generation.
The first generation model was manufactured and marketed differently for specific regions, including under a joint venture in the Chinese market with Dongfeng Yueda Kia Automobile Company, as well as ...
The Sedona is premium comfort with the power to transform. Aggressive and refined, it's your getaway vehicle and lounge on the go. The Sedona is comfort for everyone, fitted with high-tech gadge ...
Other Information:
Radiator Components and Components Location
Components 1. Radiator2. Radiator lower mounting insulator3. Radiator upper mounting bracket (LH)4. Radiator upper mounting bracket (RH)5. Radiator upper hose6. Radiator lower hose7. Radiator c ...
Smart key function
To remove the mechanical key, press and hold the release button(1) and remove the mechanical key (2). To reinstall the mechanical key, put the key into the hole and push it until a click sound ...
Copyright В© www.kisedona.com 2016-2019