Kia Sedona: Rail Pressure Sensor (RPS) Description and Operation
Rail Pressure Sensor (RPS), installed on the delivery pipe, measures the instantaneous fuel pressure in the delivery pipe. The sensing element (Semiconductor element) built in the sensor converts the pressure to voltage signal. By using this signal, the ECM can control correct injection amount and timing and adjusts the fuel pressure with the fuel pressure regulator valve if the target pressure and the actual pressure calculated by the RPS output signal are different.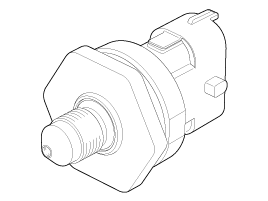 Specification Pressure [MPa (kgf/cmВІ, psi)]Output Voltage (V) [Ref=5V]0 (0, 0)0.510 (102, 1450)2.520 (204, 2900)4.5 ...
Other Information:
Engine Oil and Filter Repair procedures
Inspection Engine Oil Level Be sure that the vehicle is on level ground. 1. Warm up and stop the engine, and then wait for 5 minutes. 2. Turn the engine off an ...
Warning indicator
Warning message Master warning light When the LDWS is not working properly, the warning light will illuminate and the warning message will come on for a few second. After the message disappear ...
Copyright В© www.kisedona.com 2016-2020