Kia Sedona: Rail Pressure Sensor (RPS) Description and Operation
Rail Pressure Sensor (RPS), installed on the delivery pipe, measures the instantaneous fuel pressure in the delivery pipe. The sensing element (Semiconductor element) built in the sensor converts the pressure to voltage signal. By using this signal, the ECM can control correct injection amount and timing and adjusts the fuel pressure with the fuel pressure regulator valve if the target pressure and the actual pressure calculated by the RPS output signal are different.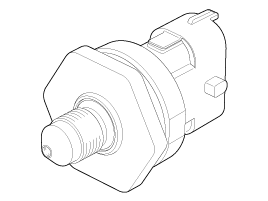 Specification Pressure [MPa (kgf/cmВІ, psi)]Output Voltage (V) [Ref=5V]0 (0, 0)0.510 (102, 1450)2.520 (204, 2900)4.5 ...
Other Information:
Description and Operation
Description The SMART KEY system is a system that allows the user to access and operate a vehicle in a very convenient way. To access the vehicle, no traditional key or remote control unit is n ...
Heater & A/C Control Unit (Manual) Components and Components Location
Component Connector Pin Function Connector Pin NoFunctionConnector Pin NoFunctionA1COMMONB18-2GND19ILL- (RHEO)3HIGH20GND4LOW21IGN 25MIDDLE LOW22ECV+6MIDDLE HIGH23ECV-(GND)B1BATT24-2I ...
Copyright В© www.kisedona.com 2016-2021