Kia Sedona: Knock Sensor (KS) Description and Operation
Knocking is a phenomenon characterized by undesirable vibration and noise that can cause engine damage. Two Knock Sensors (KS) are installed inside the V-valley of the cylinder block to sense engine knocking.
When knocking occurs, the vibration from the cylinder block is applied as pressure to the piezoelectric element.
When a knocking occurs, the sensor produces voltage signal. The ECM retards the ignition timing when knocking occurs. If the knocking disappears after retarding the ignition timing, the ECM will advance the ignition timing. This sequential control can improve engine power, torque and fuel economy.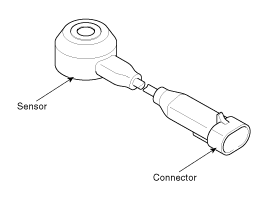 Specification ItemSpecificationCapacitance (pF)950 ~ 1,350Resistance (MΩ)4.87 ...
Other Information:
Troubleshooting
Failure Diagnosis 1. In principle, ESC and TCS controls are prohibited in case of ABS failure. 2. When ESC or TCS fails, only the failed system control is prohibited. 3. However, when the ...
Checking tire inflation pressure
Check your tires once a month or more. Also, check the tire pressure of the spare tire. How to check Use a good quality gauge to check tire pressure. You cannot tell if your tires are properly in ...
Copyright В© www.kisedona.com 2016-2021