Kia Sedona: Knock Sensor (KS) Description and Operation
Knocking is a phenomenon characterized by undesirable vibration and noise that can cause engine damage. Two Knock Sensors (KS) are installed inside the V-valley of the cylinder block to sense engine knocking.
When knocking occurs, the vibration from the cylinder block is applied as pressure to the piezoelectric element.
When a knocking occurs, the sensor produces voltage signal. The ECM retards the ignition timing when knocking occurs. If the knocking disappears after retarding the ignition timing, the ECM will advance the ignition timing. This sequential control can improve engine power, torque and fuel economy.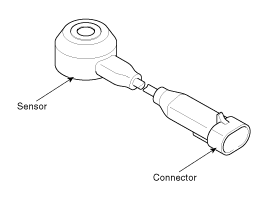 Specification ItemSpecificationCapacitance (pF)950 ~ 1,350Resistance (MΩ)4.87 ...
Other Information:
Description and Operation
Description Windshield deicer system prevents windshield wiper from freezing in the winter season. It consists of deicer in the lower part of windshield, switch and relay. Body control module r ...
Rear Power Mosfet Repair procedures
Inspection 1. Turn the ignition switch ON. 2. Manually operate the control switch and measure the voltage of the blower motor. 3. Operate the control switch to raise the voltage up to high ...
Copyright В© www.kisedona.com 2016-2020