Kia Sedona: Checking the brake fluid level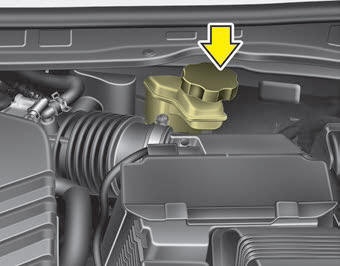 Check the fluid level in the reservoir periodically. The fluid level should be between MAX (Maximum) and MIN (Minimum) marks on the side of the reservoir.
Before removing the reservoir cap and adding brake fluid, clean the area around the reservoir cap thoroughly to prevent brake fluid contamination.

CAUTION - Proper fluid
Only use brake fluid in brake system. Small amounts of improper fluids (such as engine oil) can cause damage to the brake system.
If the level is low, add fluid to the MAX (Maximum) level. The level will fall with accumulated mileage. This is a normal condition associated with the wear of brake linings. If the fluid level is excessively low, have the brake system checked by an authorized Kia dealer.
Use only the specified brake fluid. (Refer to