Kia Sedona: Battery Sensor Description and Operation
Vehicles have many control units that use more electricity. These units control their own system based on information from various sensors. It is important to provide a stable power supply as these sensors bring diverse information. Battery sensor is mounted on battery (-) terminal. It transmits battery voltage, current, temperature information to ECM. ECM controls generating voltage by duty cycle based on these signals.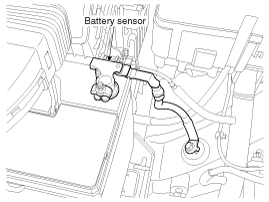 Removal 1. Turn the ignition switch OFF. 2. Disconnect the battery negative (-) terminal (A). Battery negative (-) terminal tightening nut : 4.0 ~ 6.0 N.m (0.4 ~ 0.6 kgf.m, 3.0 ~ 4.4 lb-ft ...
Other Information:
Passive Occupant Detection System (PODS-F) Description and Operation
Description In order to make normal activation of airbag system, SRSCM detects DTC(s) for the Passive occupant detection system (PODS-F). If the seat is occupied, PODS-F detects passenger prese ...
How does the air bag system operate
Air bags are activated (able to inflate if necessary) only when the ignition switch is turned to the ON or START position. The appropriate air bags inflate instantly in the event of a serious ...
Copyright В© www.kisedona.com 2016-2021