Kia Sedona: Battery Sensor Description and Operation
Vehicles have many control units that use more electricity. These units control their own system based on information from various sensors. It is important to provide a stable power supply as these sensors bring diverse information. Battery sensor is mounted on battery (-) terminal. It transmits battery voltage, current, temperature information to ECM. ECM controls generating voltage by duty cycle based on these signals.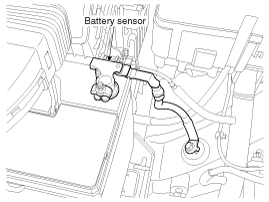 Removal 1. Turn the ignition switch OFF. 2. Disconnect the battery negative (-) terminal (A). Battery negative (-) terminal tightening nut : 4.0 ~ 6.0 N.m (0.4 ~ 0.6 kgf.m, 3.0 ~ 4.4 lb-ft ...
Other Information:
Components and Components Location
Components Location [Fuel Tank] 1. Fuel Tank2. Fuel Pump3. Fuel Filter4. Fuel Pressure Regulator5. Canister6. Fuel Tank Air Filter7. Fuel Tank Pressure Sensor (FTPS)8. Canister Close Val ...
Check battery and cables
Winter puts additional burdens on the battery system. Visually inspect the battery and cables as described in section 7. The level of charge in your battery can be checked by an authorized Kia dea ...
Copyright В© www.kisedona.com 2016-2020