Kia Sedona: Walk-out seat (2nd row seat for SXL package)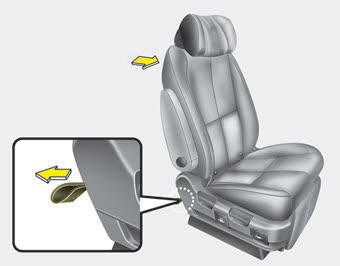 To get out from the 3rd row seat,
1. Lift the armrest up , lower the headrests to the lowest position and slide the seat inside. (if necessary).
2. Pull the walk-in strap (1) on the 2nd row seat when the passenger get out from 3rd row seat.
3. Push the 2nd row seat to forward. After getting out, push the 2nd row seat to the original position until it clicks into place. Make sure that the seat is locked in place.

WARNING
Never attempt to adjust the 2nd row seat while the vehicle is moving or the seat is occupied as the seat may suddenly move and cause the passenger on the seat to be injured.