Kia Sedona: Accelerator Position Sensor (APS) Description and Operation
Accelerator Position Sensor (APS), installed on the accelerator pedal module, detects the rotation angle of the accelerator pedal. The APS, one of the most important sensors in engine control system, consists of two sensors each equipped with individual sensor power and ground lines. The second sensor monitors the first sensor and its output voltage is half of the first one. If the ratio of the sensor 1 and 2 is out of the range (approximately 1/2), the diagnostic system judges that it is abnormal.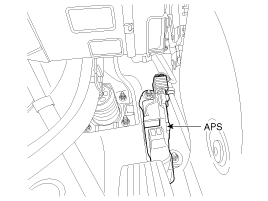 Specification AcceleratorPositionOutput Voltage (V) [Ref=5V]APS1APS2C.T0.7 ~ 0.80.29 ~ 0.46W.O.T3.85 ~ 4.351.93 ~ 2.18 ...
Other Information:
Brake Pedal Repair procedures
Removal 1. Turn ignition switch OFF and disconnect the negative (-) battery cable. 2. Remove the crash pad lower panel and reinforcing panel. (Refer to the Body group- crash pad). 3. Remov ...
Steering mounted controls
Voice control: This control is located on the steering wheel or at the end of the lighting control stalk (depending on equipment). Short press, system voice control. Long press, voice commands from ...
Copyright В© www.kisedona.com 2016-2023