Kia Sedona: Schematic Diagrams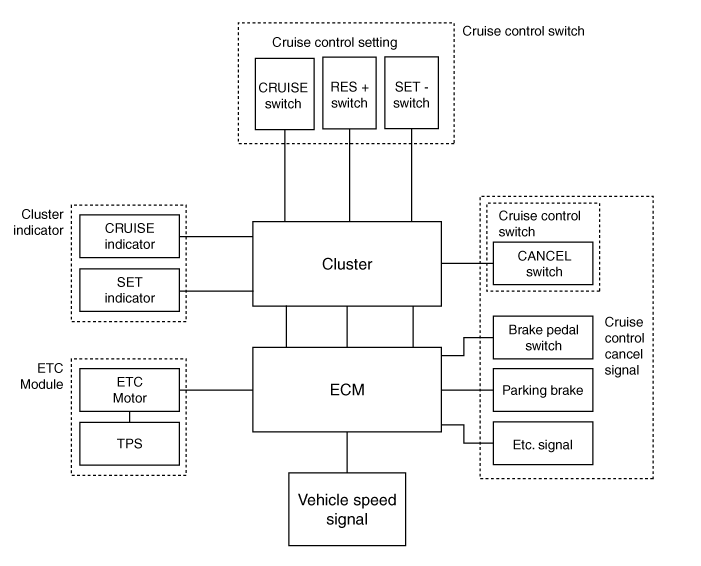 Component Parts And Function Outline
Component part




Function




Vehicle-speed sensor, ESP/ABS Control Module




Converts vehicle speed to pulse.




ECM




Receives signals from sensor and control switches.




Cruise control indicator




Illuminate when CRUISE main switch is ON (Built into cluster)




Cruise Control switches




CRUISE switch




Switch for automatic speed control power supply.




RES+ switch




Controls automatic speed control functions by Resume/Accel switch (Set/Coast switch)




SET- switch




Cancel switches




Cancel switch




Sends cancel signals to ECM.




Brake-pedal switch




Transaxle range switch (A/T)




ETC motor




Regulates the throttle valve to the set opening by ECM.



* ETC Motor : Electronic Throttle Control Motor
Cruise Control The cruise control system is engaged by the cruise "ON/OFF" main switch located on the right-hand side of steering wheel column. The system has the capability to cruise, coast, a ...
Trouble Symptom Charts Trouble Symptom 1 Trouble Symptom 2 Trouble symptomProbable causeRemedyThe set vehicle speed varies greatly upward or downward"Surging" (repeated alternating accelerati ...
Other Information:
Automatic climate control system
1. Turn the ignition switch to the ON position. 2. Select the defroster position pressing the defroster button (). 3. While pressing the air conditioning button (A/C), press the air intake control ...
Repair procedures
Service Point Target Auto Calibration (SPTAC) This procedure provides a way to calibrate the camera by having the service technician align the car to a well lit simulated straight road target; ...
Copyright В© www.kisedona.com 2016-2021