Kia Sedona: Barometric Pressure Sensor (BPS) Description and Operation
Barometric Pressure Sensor (BPS) is a speed-density type sensor and is installed on the air cleaner assemby. It senses absolute pressure of the air cleaner assemby and transfers the analog signal proportional to the pressure to the ECM. By using this signal, the ECM calculates the intake air quantity and engine speed.
The BPS consists of a piezo-electric element and a hybrid IC that amplifies the element output signal. The element is silicon diaphragm type and adapts pressure sensitive variable resistor effect of semi-conductor. Because one end of the silicon diaphragm is 100% vacuum and the manifold pressure applies to the other end, the sensor output can be achieved in analog signals from the silicon variation proportional to pressure change.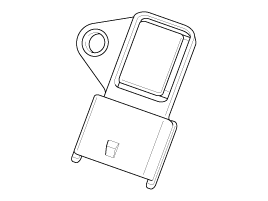 Specification Pressure [kPa (kgf/cmВІ, psi)]Output Voltage (V) [Ref=5V]10.0 (0.01, 0.15)0.5055.0 (0.56, 7.98)2.21115.0 (1.17, 16.9)4.50 ...
Other Information:
Operating conditions
The indicator on the switch will illuminate when the Blind Spot Detection System (BSD) switch is pressed with the Engine Start/Stop Button ON. If vehicle speed exceeds 30 km/h (18.6 mph), the sys ...
Components and Components Location
Components 1. BSD unit2. BSD switch3. BSD warning lamp (Built in the outside mirror)4. Cluster ...
Copyright В© www.kisedona.com 2016-2021