Kia Sedona: Schematic Diagrams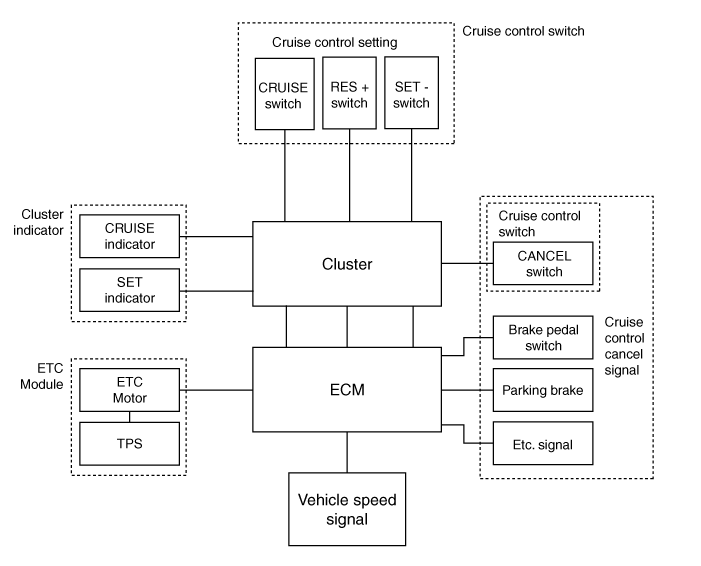 Component Parts And Function Outline
Component part




Function




Vehicle-speed sensor, ESP/ABS Control Module




Converts vehicle speed to pulse.




ECM




Receives signals from sensor and control switches.




Cruise control indicator




Illuminate when CRUISE main switch is ON (Built into cluster)




Cruise Control switches




CRUISE switch




Switch for automatic speed control power supply.




RES+ switch




Controls automatic speed control functions by Resume/Accel switch (Set/Coast switch)




SET- switch




Cancel switches




Cancel switch




Sends cancel signals to ECM.




Brake-pedal switch




Transaxle range switch (A/T)




ETC motor




Regulates the throttle valve to the set opening by ECM.



* ETC Motor : Electronic Throttle Control Motor
Cruise Control The cruise control system is engaged by the cruise "ON/OFF" main switch located on the right-hand side of steering wheel column. The system has the capability to cruise, coast, a ...
Trouble Symptom Charts Trouble Symptom 1 Trouble Symptom 2 Trouble symptomProbable causeRemedyThe set vehicle speed varies greatly upward or downward"Surging" (repeated alternating accelerati ...
Other Information:
Description and Operation
Description An inverter is a device that transforms the DC voltage from the battery into an AC voltage (115V). The inverter can power various electrical devices that consume 150W or less, inclu ...
Adaptive Cruise Control
For more information, refer to the General recommendations on the use of driving and manoeuvring aids and the Cruise control - particular recommendations. This system automatically maintains the ...
Copyright В© www.kisedona.com 2016-2023